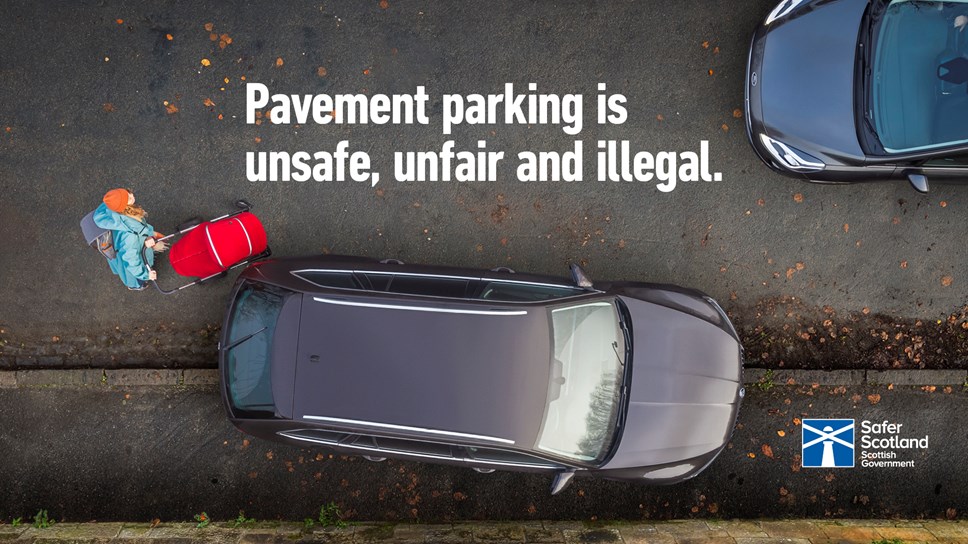 Pavement Parking Campaign Launch
The Scottish Government, in collaboration with Transport Scotland and Road Safety Scotland, have launched a campaign informing drivers that they could be fined for parking on the pavement, while highlighting the dangers that such parking poses to pavement users.
Pavement Parking has been an issue for pavement users for years. From 11 December 2023, the Transport (Scotland) Act 2019 will prohibit pavement parking, double parking and parking at dropped kerbs and Scotland is the first of the four nations to impose the ban nationwide.
The campaign is running across radio, digital and outdoor advertising, supported by PR and partnership activity.
For more information visit www.roadsafety.scot
Key Messages
Pavement parking is unsafe, unfair and illegal
It is illegal to park on the pavement, double park and park at dropped kerbs
You could face a penalty fine of £100 (reduced to £50 if paid within 14 days)
Even if you think you've left enough space or won't be there for long, pavement parking has serious consequences and forces people to take unnecessary risks
There are exemptions. In some cases, it may be necessary to park on the pavement (emergency services for example). You can read more about exemptions here
Toolkit
A toolkit has been developed to help you communicate the campaign messages to your audiences and contains the following:
Campaign key messages
Campaign key visuals
News release
How You Can Help
Please re-share the Pavement Parking campaign content on the Road Safety Scotland Facebook and X (formerly Twitter) page via your social channels
Customise your communications using relevant assets from our Pavement Parking Stakeholder toolkit
Upload content to your website
Print and display posters at relevant locations
We hope you find these communication tools useful. If you have any questions or comments, please don't hesitate to get in touch.