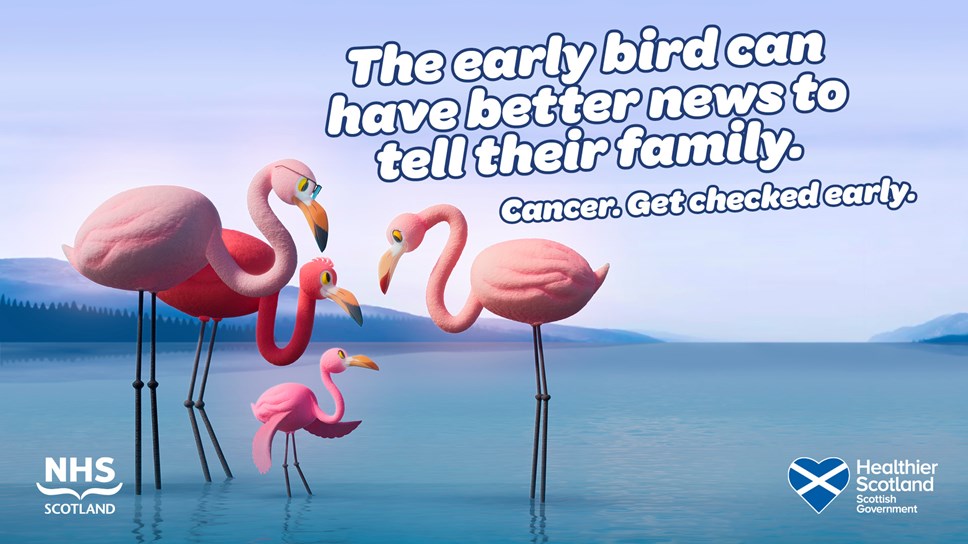 Detect Cancer Earlier Campaign
We are delighted to share the new Detect Cancer Earlier campaign 'Be the Early Bird' which launches today, 6 March 2023.
The campaign has been developed in response to insight which shows that fear of a cancer diagnosis can delay people contacting their GP practice with possible symptoms. 'Be the Early Bird' reinforces the benefits of finding cancer earlier in a bid to challenge the fear that is stopping people acting – and encourage those who have unusual, persistent symptoms to contact their GP practice.
Testing with the target audience showed this creative route had the greatest potential to meet objectives because it was memorable, conveys a strong sense of action and the 'early bird' connotation was easy to understand. It also engenders a sense of optimism beyond just finding cancer early and surviving it, driving home the importance of individual action.
The key messages for the campaign are:
People with persistent symptoms unusual for them are being urged to be the early bird and contact their GP practice.
Possible cancer symptoms could include unexplained bleeding, unusual lumps, unexplained weight loss or something that's not normal for you.
Finding cancer earlier can mean there's more treatment options available, a greater chance of living well after treatment and better news to tell the family.
If you're worried about a possible cancer symptom, your GP practice wants to hear from you.
For more information visit getcheckedearly.org
This is a 4 week campaign running until 31 March targeting people across Scotland aged 40+, with a focus on those from more deprived communities. During this time it would be fantastic if you can support the campaign and share it through your channels. Let's get this out there and help more people be the early bird.
How You Can Help
Access and use supporting campaign materials via the SG Campaign Resource Centre here.
Resources include the following:
Stakeholder toolkit with social copy and editorial ideas
Digital film ads (40 and 20 seconds)
Social static ads
Posters
Leaflet
BSL ad (40 seconds)
Translations and alternative formats of the leaflet will also be available from 16 March via the SG Campaign Resource Centre here.
Alternatively feel free to share content from the wee c's social channels using the #BeTheEarlyBird hashtag: Facebook and Twitter. New case studies will also be available at getcheckedearly.org. Finally, please get in touch with any stories that may help highlight the benefits of finding cancer earlier.
To support the campaign messages, we thought it would be useful to re-share the GP is open campaign assets to run alongside 'Be the Early Bird' where appropriate. You can find these via the SG Campaign Resource Centre here.
If you have any questions, please do not hesitate to get in touch.