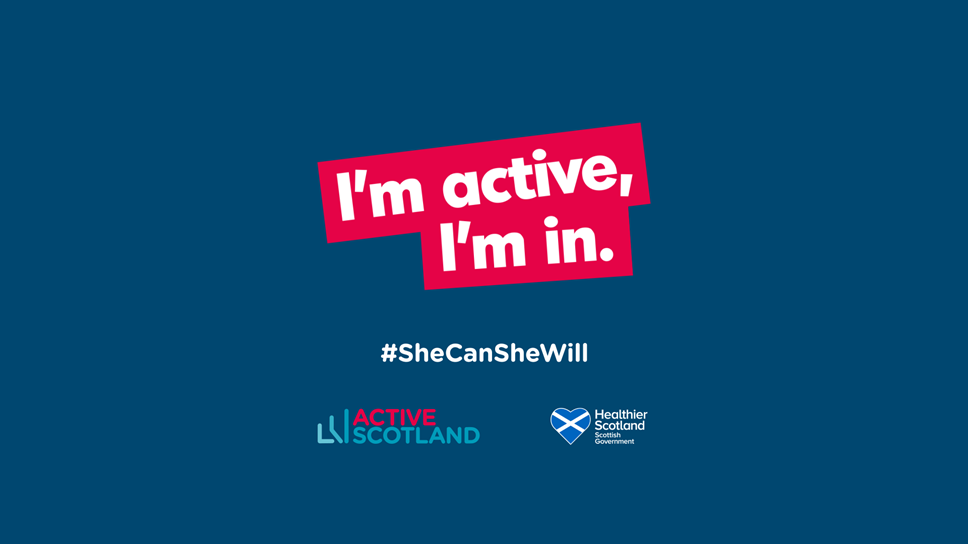 Scottish Women and Girls in Sport Week 2023 launches on Monday!
This years' Scottish Women and Girls in Sport Week takes place from Monday 2 October - Sunday 8 October, and we're inviting every single woman and girl in Scotland to get involved.
The Week provides a chance to inspire and support every woman and girl in Scotland to get active. This year celebrates inclusion and encourages all women and girls, no matter who they are or what their ability, to get involved. The Week also seeks to highlight the great benefits that sport and physical activity can bring to physical, mental and social health.
The Biggest Women And Girls Team Ever!
This Week, every woman and girl in Scotland is invited to join an 'unofficial' nationwide team line-up! And any women or girl can join, no matter who they are or what physical activity they do - it all counts!
A campaign film will launch on Monday 2 October featuring Leanne Crichton, Scotland International Footballer 72 caps, whose rallying cry will encourage woman and girls from across Scotland to get active and get in!
The attached toolkit provides a range of posters, social images and copy which supports the Week and encourages women and girls to get involved. In addition, the 'I'm active. I'm in!' Instagram filter will be available to use across social channels next week - search 'I'm active. I'm in!' on Instagram filters to locate and share with your networks.
Campaign Resources
You can access all campaign assets via the SG Campaign Resource Centre here.
How You Can Support
We would really appreciate your support for the Week by sharing the partner materials far and wide. Included below are some ideas on how to use the campaign assets to reach the women and girls across your networks:
Share the campaign messaging and editorial across newsletters, websites, social channels, intranets and more
Reshare content from Active Scotland's Twitter page throughout the Week, including the campaign film!
Include #SheCanSheWill when posting about the campaign
Share the social statics and accompanying copy across your channels
Use the 'I'm Active. I'm in!' Instagram filter to show your participation
Print and display the posters in visible areas and locations with high footfall
Circulate the WhatsApp copy across your communities, clubs and organisations
If you have any questions, please do not hesitate to get in touch.