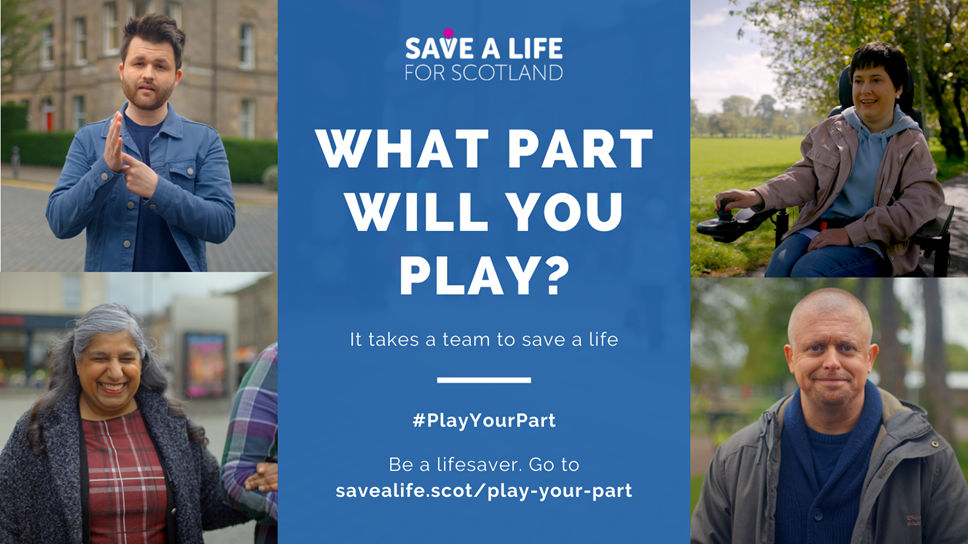 Save a Life for Scotland 'Play Your Part' Campaign Launch
Today marks the launch of Save a Life Scotland's 'Play Your Part' Campaign, which aims to empower Disabled people to be ready to play their part in saving a life in cardiac arrest cases.
Save a Life for Scotland has launched a new hub of accessible CPR resources. The Scottish Government is sharing these materials on their behalf to partners to ensure disability inclusion when it comes to learning CPR and saving a life.
The Accessible CPR Hub includes step-by-step guides on how to save a life in BSL, Easy Read, Audio, Makaton and other accessible formats.
Social Media Toolkit
The Play Your Part Social Media Toolkit contains the following:
Campaign aims
Campaign imagery and suggested social media posts
Newsletter copy in plain text and Easy Read
How You Can Help
We would very much appreciate your support in helping raise awareness by sharing this content through your own channels:
Share campaign information and social assets across your own channels.
If you have any questions on this, or if you have any further suggestions for the Accessible CPR Hub, please get in touch with Save a Life for Scotland directly: hello@savealife.scot