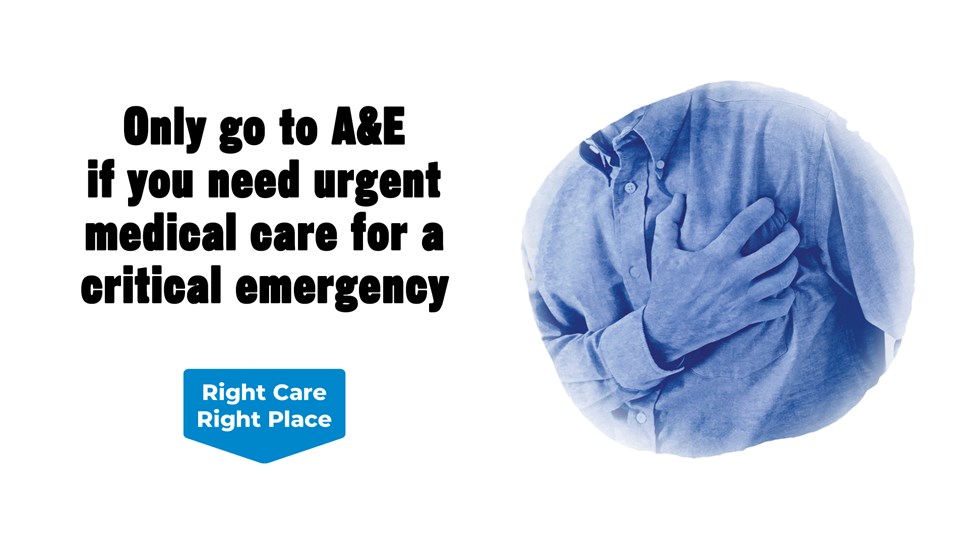 Right Care Right Place Campaign Relaunch
The Right Care Right Place campaign has relaunched this week with new campaign assets available for stakeholders.
The Right Care Right Place Campaign has been running since 2020, and was first introduced to inform the public of the re-design to the Urgent Care pathway. It has since evolved to further support the public in understanding how to access the right care in the right place at the right time.
The campaign has been designed to communicate the appropriate use of the urgent care pathway, specifically A&E in an effort to help reduce pressures being felt across the system. It's important that the public access the right care in the right place to ease the pressure on health services.
The Right Care Right Place Campaign launched on Monday 9 October across radio channels, with digital following from 16 October and TV from 1 November.
Key messages
Only go to A&E if you need urgent medical care for a critical emergency such as a suspected heart attack, stroke or excessive bleeding.
If you think you need A&E but it's not critical or life-threatening, call NHS 24 on 111, day or night, or contact your General Practice.
For more information, visit NHSinform.scot/right-care
Stakeholder Resources
The Right Care Right Place Stakeholder Toolkit outlines all assets available, which include posters, social media films and imagery with suggested supporting copy and the TV advert.
You can access the Right Care Right Place resources via the SG Campaign Resource Centre here.
How You Can Help
Re-share posts from the Healthier Scotland Facebook channer and follow the Scottish Government Facebook, Instagram and Twitter accounts.
Share social films, GIFs and/or statics with accompanying copy via your social channels.
Print / display / circulate posters in visible areas and across your networks.
Thank you for your continued support in sharing Right Care Right Place messages. If you have any questions on this please don't hesitate to get in touch.