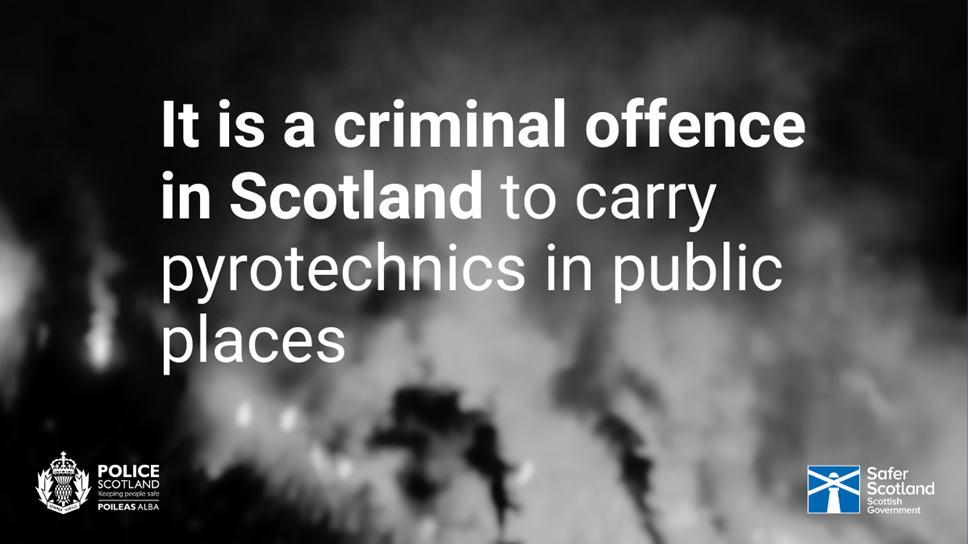 New Pyrotechnics Legislation
It is illegal in Scotland to carry pyrotechnics, such as flares and fireworks, in public places, including at sporting and live music events.
Pyrotechnic misuse can cause serious, even fatal, injury.
To help make sure no one is put at risk of harm as a result of firework or pyrotechnic misuse, new legislation allows police to search and remove pyrotechnics from people who are carrying them without a reasonable excuse.
Those found to be breaking the law could face a fine up to £5,000, a prison sentence of up to 6 months – or both. Find out more about the law.
How you can help
We would appreciate your support in sharing this information with your audiences.
A range of social media images have been created. Please share these assets with your audiences via your social media channels. Various assets and sizes are available for all channels, as well as suggested social copy.
If you don't already, please follow Scottish Government on Facebook, Instagram and Twitter to share and retweet content.
A summary sheet is attached which outlines the information you need to know on pyrotechnic misuse.
Download all pyrotechnic safety campaign assets via the SG Comms Resource Centre here.
If you have any questions, please don't hesitate to get in touch.