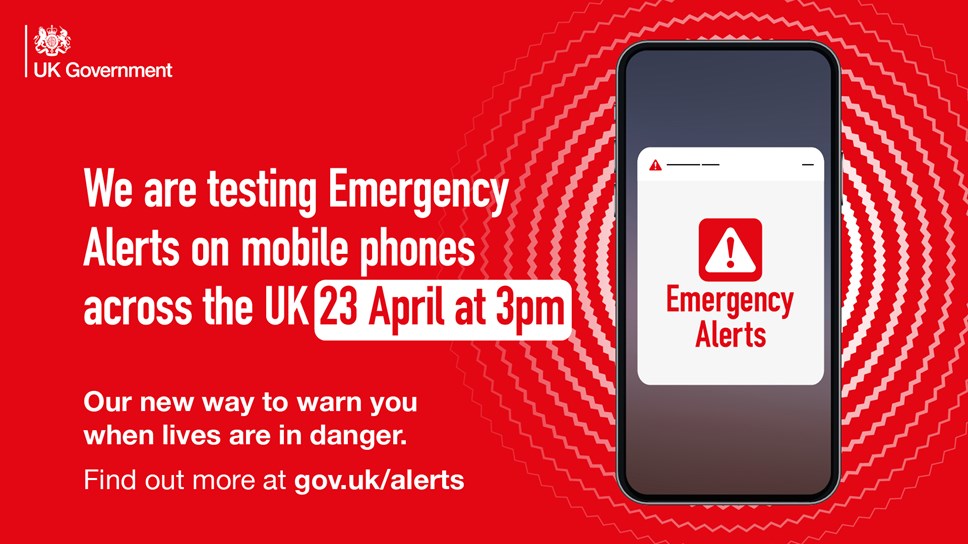 National Test of the UK Emergency Alerts Service - 3:00-3:30pm Sunday 23 April
The national test of the UK Government's Emergency Alerts Service is happening between 3:00-3:30pm this Sunday to ensure the technology operates as intended and alert messages are received by all compatible handsets.
As a reminder, this service will enable people to be contacted via their mobile phone if their lives are at risk in an emergency. It will be used to send a direct message only where there is a risk to life, either locally or nationally. With the exception of the test message throughout the trial, it is anticipated that the service will only be used in Scotland to warn about a life-threatening emergency caused by severe weather. Messages will provide key information so people can take action to avoid harm.
Translations and accessible formats now available
Content on the Emergency Alerts system is now available in a number of translations and accessible formats. The Welsh Government has published a BSL Emergency Alerts Video on YouTube and Easy Read Fact Sheet of key information. Translated versions of the Emergency Alerts Fact Sheet have also been created in partnership with the Voluntary and Community Sector Emergencies Partnership. All accessible and translated formats can be found via the SG Marketing Resource Centre - Translations and Accessible Formats
What happens when you get an emergency alert
Your mobile phone or tablet may:
Make a loud siren-like noise, even if it's on silent,
vibrate,
read out the alert.
The sound and vibration will last for about 10 seconds. If you have a vision or hearing impairment, audio and vibration attention signals will let you know if you have an emergency alert.
How you can help
We would appreciate your help continuing to share this information with your audiences:
Social media: Please amplify, share or comment on campaign content available via the SG Marketing Resource Centre - UK Emergency Alerts. This includes social media images alongside social and editorial copy, with new assets available to inform people of the 3pm test on 23 April.
Internal communications: Please raise awareness of the Emergency Alerts Service with your colleagues and workforce using your internal channels.
More information on the UK Emergency Alerts Service can be found via gov.uk/alerts