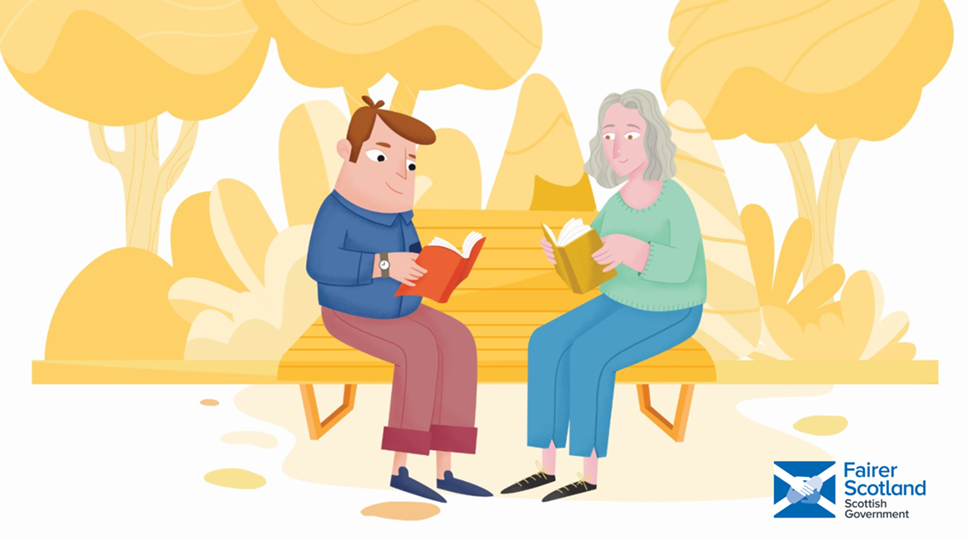 Different minds. One Scotland. 'Autism and The Social Rulebook'
Today, at the start of Autism Acceptance Week 2023, we are proud to launch stage 2 of our Different minds campaign - Autism and the Social Rulebook. A campaign which has been created and produced in partnership with autistic people.
Campaign Overview
Whether we realise it or not we all follow a social rulebook, all those unwritten 'rules' that shape our everyday interactions and the way we navigate the world. From eye contact, body language to the expectancy of small talk and processing of information, however, not all brains are all wired the same way to interpret this rulebook. Many autistic people are left to navigate a world in which everyday interactions are much harder and overwhelming than they need to be. We are seeking to increase understanding in the differences in communication styles. If these differences are better understood then this could make a real and positive impact on how effectively autistic and non-autistic people communicate together.
Alongside the film 'Marion and the Social Rulebook' we have created an eBook which provides a depth of information behind the film. Written by autistic people, the eBook details the differences in eye contact, body language, small talk and processing and gives an insight into their everyday experiences when it comes to autistic to non-autistic communication.
To understand more about autism please visit www.differentminds.scot.
Campaign Key Messages
Autistic communication differs to non-autistic communication; we all communicate differently and that's ok.
People who aren't autistic expect small talk, but it feels unnecessary to some autistic people.
There is more than one social rule book; there is nothing 'wrong' with autistic communication - it's simply different.
Body language can be hard to read for some autistic people, similarly an autistic person's body language might not seem to match their words.
Eye contact can be distressing to some autistic people, this can often be misinterpreted as being rude when this isn't the case.
Around 1 in 100 people in Scotland are autistic. Think differently about thinking differently.
How You Can Help
We had fantastic support for stage 1 of the Different minds campaign which we are grateful for. We hope that you find stage 2 'Autism and the Social Rulebook' informative and engaging, and it would be brilliant to have your support for this campaign throughout Autism Acceptance Week 2023 (27 March - 2 April). Included below are some ideas on how to use the campaign assets available to reach your audiences.
Share the campaign messaging across social channels and as wide as you can to help communicate this important message - 'We all communicate differently, and that's ok.'
Include include the #DifferentMinds hashtag when posting about the campaign
Re-share posts from the Fairer Scotland page throughout Autism Acceptance Week 2023 (the first post is already live and can be shared from here)
Share the campaign video, and shorter digital films with your audiences
Link to the e-book on social channels, in newsletters, in intranet posts, or on websites
Print and display the A4 posters in visible areas or in reception/ waiting rooms
Circulate the summary sheet to audiences via email, on websites, or via meetings/ training sessions
You can support the campaign by showing static social assets with supporting text, all of which can be found in the campaign toolkit via the SG Campaign Resource Centre here.
If you don't already, please follow SG channels across Facebook, Twitter and Instagram and share and retweet content.
Campaign Assets
All of our campaign assets can be found on the SG Campaign Resource Centre here. The campaign website differentminds.scot also carries a wealth of information about autism from myth busting to frequently asked questions which are all answered directly by autistic people themselves.
If you have any questions or if there is anything we can do to work together to help share this message with your audiences, we would be happy to discuss.