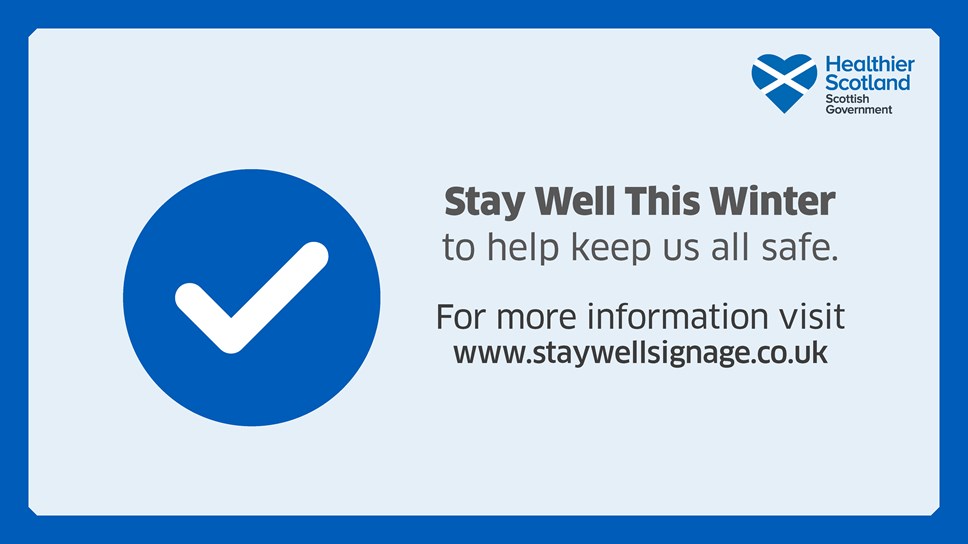 Stay Well This Winter Signage Launch
The Stay Well This Winter Signage scheme supports safer spaces for all.
All Covid rules and restrictions have been lifted in Scotland, but the virus has not gone away. COVID-19, colds and flu can spread more easily in the winter.
We all still need to keep playing our part to protect ourselves and others. Stay well and make it safer for everyone this winter.
We are pleased to introduce Stay Well This Winter Signage. The voluntary Signage supports organisations and businesses to highlight the protective measures in place in their spaces to help keep us all safe and well. It supports organisations and businesses to establish and embed long-term adaptations which will build infection resilient spaces around Scotland. This is particularly re-assuring for those people at highest risk from Covid and other respiratory diseases.
The Signage scheme has been re-branded from COVID Sense Signage Pilot. A number of improvements have been made to the capabilities of the scheme website, user experience, bespoke signage generated and the supportive toolkit for participating organisations. New guidance includes step by step information on how to take part in the updated scheme and can be found here.
The pilot, launched in late June 2022, ran for 3 months with organisations and businesses from across the private, public and third sector participating. We thank those that participated in the pilot and contributed towards the review and evaluation process. The evaluation exercise provided valuable insights that supported the re-development of the website and rebrand to support infection resilience over winter. The scheme will next be reviewed in Spring 2023.
We invite current and new participants to generate new Stay Well This Winter Signage via the new website.
Resources to promote participation in the Stay Well This Winter Signage scheme are available for download via the Winter Resource Hub.
We welcome your support in spreading the word across your networks, and in registering your organisation or business to participate in Stay Well This Winter Signage.
We value your feedback and suggestions, please direct any feedback, comments or queries to the dedicated inbox: staywellsignage@gov.scot.
Many thanks for your support.