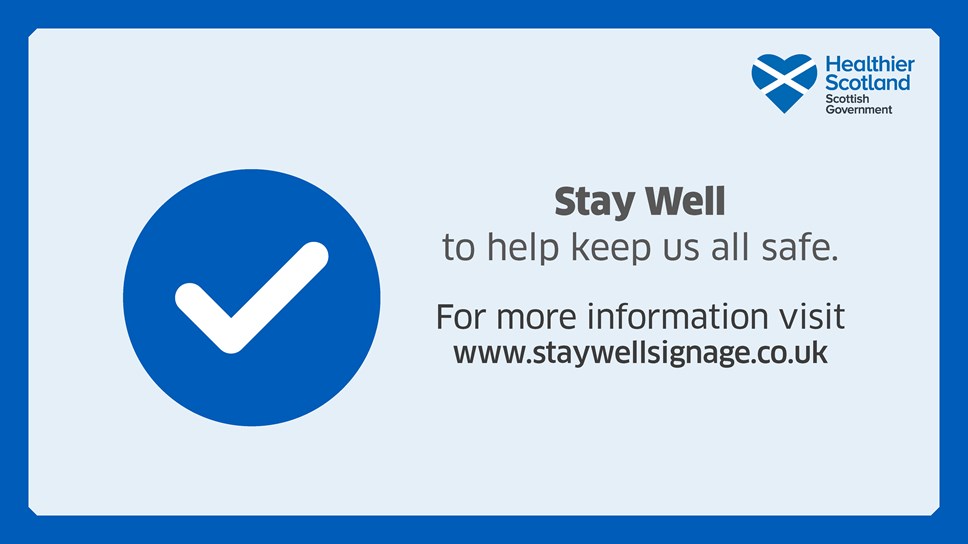 Reintroducing Stay Well Signage
The Stay Well This Winter Signage scheme has a new name for Spring.
Stay Well Signage supports safer spaces for all.
All Covid rules and restrictions have been lifted in Scotland, but the virus has not gone away. Viruses can spread more easily in indoor places, so it's important to continue doing the things that help keep us all safe.
We are pleased to reintroduce Stay Well Signage! The scheme has been renamed Stay Well Signage to support longevity as we move out of Winter.
The voluntary Signage supports organisations and businesses to highlight the protective measures in place in their spaces to help keep us all safe and well. It supports organisations and businesses to establish and embed long-term adaptations which will build infection resilient spaces around Scotland. This is particularly re-assuring for those people at highest risk from Covid and other respiratory diseases.
You can visit the Scottish Government website for guidance and step by step information on how to take part in the scheme.
We invite current and new participants to generate new Stay Well Signage via the website.
Resources to promote participation in the Stay Well Signage scheme, including a digital toolkit, can be downloaded here.
We welcome your support in spreading the word across your networks, and in registering your organisation or business to participate in Stay Well Signage.
We value your feedback and suggestions, please direct any feedback, comments or queries to the dedicated inbox: staywellsignage@gov.scot.
Many thanks for your support.